Dubai Can Become Islamic Economy Hub
With the United Arab Emirates (UAE) and Malaysia set to launch a number of initiatives together within the next twelve months, Malaysian Prime Minister Najib Abdul Razak said that Dubai has the potential to become the hub for an Islamic economy.
The two countries were at the World Islamic Economic Forum (WIFE), which has attracted 2000 participants from across the globe, where they are considering a number of Shariah-compliant initiatives together, the PM said: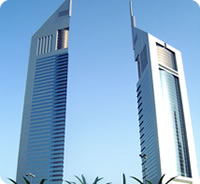 "Dubai has the potential to be a hub of the Islamic economy and there are a number of exciting projects which are being planned between Malaysia and the UAE; the opportunity for cooperation is tremendous. With Islamic finance growing more than 50 per cent faster than that of conventional finance, there is a lot for us to share."
This sentiment was echoed by Mohammed Al Gergawi, Minister of Cabinet Affairs in the Federal Government of the UAE, who said:
"Dubai is working very closely with Malaysia; it is a country we respect a great deal. The Islamic economy is not just for Muslims, but also for non-Muslims and today we [Dubai] can say that we have achieved very positive gains over the last year.
Furthermore, there are a number of initiatives we will launch in the next 12 months which will continue to enhance the Islamic economy. We are in the business of giving people hope. This is also the overall purpose of WIEF and why it has been so successful."
Both parties agreed that both Malaysia and Dubai have the potential and the responsibility to advance the Islamic economy where they can promote the interests of Islamic countries whilst nurturing a climate of unity between them and other nations with sustainability and inclusivity. The talks focussed heavily on how Malaysia and the UAE can work together to promote this with Al Gergawi going on to say:
"The world is facing many reasons for tense [relations] and regression in terms of development and this is happening in many of the Islamic countries. One of the reasons and purposes of Islamic banking is investment in land, the investment for the prosperity of nations and the happiness for human beings everywhere in the world.
The Islamic economy, together with economic partnerships and the resources that can be devoted to the development of societies are a key element towards the stability in the world. We can achieve this if we establish innovative partnerships and if we foster and promote cooperation and lead policies towards development that conform to Islamic rules. Islamic banking and the achievements made so far are very strong proof of the fact we can achieve this,"
For more information on opening a company in Dubai or Dubai Free zones visit https://www.openadubaicompany.com/contents/the-free-zones.html or email us at [email protected]