Dubai in Big Hospitality Push
In a push to diversify its economy Dubai is aiming to become the top family destination by 2020 which has seen property firms investing heavily in the hotels and hospitality markets.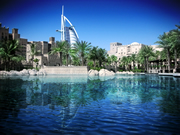 Dubai is hoping to achieve a Compound Annual Growth Rate (CAGR) of seven to nine per cent in leisure and businesses visitors over the course of the next decade and they have set their sights on the leisure market by recently investing in the building of shopping areas and theme parks in order to attract those visitors but now attention has turned to accommodating them.
If the emirate is to succeed in its goal of attracting that amount of visitors, it will need to up its hotel room inventory from over 88,000 in 2014 to between 140,000 and 160,000 by 2020. It's this need for a significant amount more of hotel spaces that has led to property developers such as Emaar Properties, Meraas Holding, DAMAC Properties, Deyaar Development and others investing in building hotel apartments and rooms.
One of the leaders of the pack is DAMAC who have around 1,000 serviced hotel apartments in operation but have further aspirations of getting another 11,000 hotel apartments and rooms in the UAE into use by the end of 2018 of which it wants the core numbers to be in Dubai.
They have now teamed up with Paramount Hotels and Resorts on several developments that will see them produce a few projects including the $1 billion DAMAC Towers, consisting of three residential towers and one hotel. Niall McLoughlin, senior vice president of DAMAC Properties, said of future developments in Dubai:
"When you look at the fundamentals of the tourism industry of Dubai, the amount of tourists that visit Dubai, the projected tourism numbers up to 2020 and beyond, it showed us that it was a segment of the market that could withstand any potential downturn in the overall economy. It gives customers the opportunity to buy into the hospitality sector. Previously, if someone wanted access to the hospitality sector, they would have to build a hotel or run a hotel."
Because of this need for more hotels, Dubai has provided incentives for investors, specifically in the three and four star category, which has already seen the average room stay in 2014 standing at 3.9 days over the 3.8 days average of 2013. Hotels are also seeing an increase in revenue; rising 11 per cent to Dhs12.7 billion in the first half of 2014 compared with the first half of 2013.
Deyaar is another company trying to capitalise on these incentives and has started incorporating hotel elements into its latest residential projects with mixed use developments on the cards and the plan for a Dhs450 million hotel and furnished apartment project already in place. Deyaar CEO Saeed Al-Qatami said of the developments:
"We, at Deyaar, are focusing on the hospitality sector at the moment as tourism is expected to witness an unprecedented boom in the run up to Expo 2020. We believe the market will need more than just five-star hotels, but a wide range of residential options such as furnished and services apartments. With this strategy in mind, we are considering forging key partnerships especially in the hospitality market segment."
SKAI holdings has perhaps the most ambitious project with a total of 830 hotel rooms and apartments in operation and under construction, including the Dhs3.66 billion Viceroy Dubai Palm Jumeirah, a mix of residential and hotel apartment units. Amit Arora, CEO of Hospitality at SKAI Holdings, said:
"We are very confident about Dubai's hospitality sector and as such we are investing all of SKAI Holdings' capital into hospitality projects. Our optimism about the industry is driven by strong fundamentals and a shortage of rooms. Hospitality will continue to be a major contributor to SKAI Holdings' revenue looking ahead. In the next five years, over 90 per cent of our revenue will come from hospitality-driven real estate sales and operations."
After the financial crises hit Dubai in 2008, the homes market took a severe hit and so developers are now keen to move into hospitality and hotels as Chiheb Ben-Mahmoud, head of hotels and hospitality for the Middle East and Africa at property advisory Jones Lang LaSalle, pointed out:
"Investment in the hospitality sector is associated with higher returns [as well as higher risks] than commercial real estate [offices and residential]. As long as the hospitality performance is strong and positive, (and the demographic growth in Dubai limited) property developers will continue to associate themselves with hospitality," says Ben-Mahmoud. "The excess supply is always a risk in any destination. It is intrinsic to the hospitality and tourism industry."
For more information on opening a company in Dubai or Dubai Free zones visithttps://www.openadubaicompany.com/contents/the-free-zones.html or email us at  [email protected]