Dubai Needs Homes
Dubai has an occupancy level across all available homes at an incredible 87% which could spell serious trouble if not rectified soon but could see a major corner of the market in construction expand very rapidly.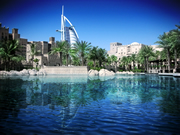 Another 51,000 new homes are likely to hit the market by 2020 but with population growth at a steady 5% annually a situation where demand could soon outstrip supply may well arise. This situation has arisen before when, between 2005 and 2008, occupancy levels reached 93%.
This means that most current construction projects can be easily absorbed by the market but the problem now lies in encouraging investors and developers into building for a wider buyer base than just the high end, luxury market.
According to the report by Colliers International, where these figures come from:
"Although the rate of growth in the sales market has slowed, the average two- or three-bedroom unit in Dubai is still beyond the reach of most working families," said Ian Albert, Regional Director at Colliers International. "With home ownership no longer an option, these families have been pushed towards the rental market where prices remain high.
"As the cost of living and raising a family becomes untenable for your average family, at best they will look to a neighbouring emirate for accommodation and schooling, and at worst they will look to more attractive, affordable countries in the Gulf or further afield. 
"This is not only a missed opportunity for Dubai developers who should be looking to capture this sizeable market by creating affordable communities that cater to its needs, but it also directly affects the economy as productivity levels are lowered when a large percentage of the workforce suffers from a long commute."
With such a situation arising in the housing market, many Dubai residents are looking towards the rental market but this has seen a steep rise in prices as well due to the demand. As such, should developers move towards more affordable housing projects, they could plug a major gap in the market and clean up quite tidily as well in doing so with the potential financial gains to be had quite considerable.
According to Colliers' numbers, there were around 120,000 freehold apartments in Dubai, of which 59 per cent are priced below Dh1 million and typically studios and one-bedroom apartments. But given that the average household in Dubai has more than four members, the need then would be for two- and three-bedroom formats, of which there is a supply deficiency.
For more information on opening a company in Dubai or Dubai Free zones visit https://www.openadubaicompany.com/contents/the-free-zones.html or email us at [email protected]