Dubai Ranked as Best City In the World to Live and Work In
In a survey undertaken by 835 alumni of the top business school INSEAD, Dubai came out on top as the most desirable place to live and work for the young business professionals of the future.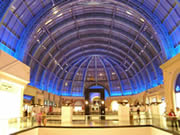 A commercial capital and cosmopolitan city, Dubai has now been ranked as the best place to live and work by many of the INSEAS alumni who 15 global cities, including New York, Hong Kong, Singapore, London and Paris,  on their economic dynamism, overall attractiveness, quality of life and cost of living in which Dubai ranked 1st, 2rd, 4th & 4th respectively adding up to make it the top place to be in the world.
Other surveys have previously ranked other cities in the United Arab Emirates (UAE), such as Abu Dhabi, Dubai and Sharjah, as the best places to live in the Arab world, but finally Dubai has taken the top spot and on a far more global scale.
In 2013, the Global Talent Competitiveness Index (GTCI), which was created by Insead, in partnership with Singapore's Human Capital Leadership Institute and Adecco, found that the UAE was well ahead of other Gulf and the Middle Eastern countries with oil based economies when it came to attracting and retaining talent and it stood at number 19 globally. This recent survey seems to support that with Dubai standing as number one overall.
30 criteria dealing with professional and private life: economic dynamism (quality of labour, access to funding, etc.), quality of life (sports and cultural facilities, air quality, etc.), cost of living (real estate, dining and entertainment, etc.), and finally, the overall attractiveness of the city (young talent, access to technology, etc.) were assessed for this survey which was undertaken by Insead Alumni Association France and yielded few surprises to those within the organisation.
Miguel Lobo, Associate Professor of Decision Sciences and Director of Insead Campus Abu Dhabi, Said of the findings:
"To some it might come as a surprise that Dubai has been ranked as the best place to work globally by the Insead Alumni Association, but for Insead in the region this is not a revelation. Today's business leaders and key decision-makers recognise the dynamism of this country, which leads many to choose to live, work and actively immerse themselves in the regional business landscape."
And Sam Barnett, CEO of MBC group and President of Insead Alumni Association in UAE, also contributed:
"As an Insead alumnus and someone who has been working in the UAE for 12 years, I'm not surprised by the survey findings. Not only do we see larger numbers of Insead alumni coming to work here each year, but more and more are staying for greater periods of time. The excitement of an emerging market and all the perks of an international city make a compelling combination for many people. There are attractive opportunities to build a career with many of the companies that have started here or with the international companies establishing a foothold in the Middle East."
Yousuf Almulla, Chief Strategy Officer at Dubai Holding, who is a UAE National and an EMBA alumnus, commented on the results of the survey: "It is very rewarding for the UAE leadership and the country's national and expatriate communities to receive such recognition. All participants in the Insead survey – incorporating 35 different nationalities – have lived and worked in multicultural environments, and still Dubai has topped their preference list as the best city to work in. Our young and talented population is an untapped natural resource: a workforce which with the proper education, guidance and mentorship, can become the future leaders of the global economy and a driving force for continued growth."
Dubai has seen fifty or so years of sustained development, investment and growth, specifically in the oil industry, which has in turn spurred on further growth of its own. It now appears to be reaping those rewards as it stands as one of the most desirable cities to live in, in the world, amongst some of the global elites.
For more information on opening a company in Dubai or Dubai Free zones visithttps://www.openadubaicompany.com/contents/the-free-zones.html or email us at [email protected]