Emaar is Dubai's largest listed real estate developer and is now looking at the possibility of listing its hotels business as it follows markets intently.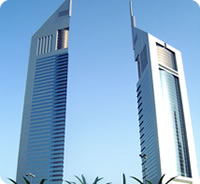 Dubai has been having a massive hospitality push of late with Dubai International airport overtaking London Heathrow International as the world's busiest airport by passenger numbers. With more and more people coming via the airport plans for expansion have been mooted as well as the idea of attracting even more visitors. This has led to the building of several theme parks and retail malls, shopping centres etc. alongside greater demand for hotel rooms within the Emirate.
This has placed Emaar in an enviable position on top of the pile to capitalise on this expansion as it looks to grow further and it is now looking at raising funds with an Initial Public Offering (IPO) by listing its hotel business. The company confirmed they were following markets closely so as to come to a decision on the time frame of when this should happen. A Bloomberg report said Emaar had hired Rothschild as advisor for a planned listing of the hotels operations in the second half of this year. An Emmar spokesman said of the move:
"The timing of the IPO will be dependent on the market conditions. We are watching the markets closely and will take a decision to list at the appropriate time. Emaar's strategy is to make its business segments independent listed companies. This approach aims to provide the businesses with appropriate financial and operational means to grow faster and become among the most successful companies in their industries."
Shares in the company were up 2.6% last week to 7.90 dirhams in early trade last week as the market rallied around this announcement. This is not the first time the company has offered an IPO as it sold a 15.4% stake in its retailing unit Emaar Malls Group in September 2014 which raised $1.6 billion after a heavy oversubscription. The company said an offer of Emaar Hospitality would follow "as soon as possible".
With Dubai's property sector expected to mature over the coming year and a big hospitality push expected to lead to a boom, this could be the perfect time for investors to move into Dubai as it tries to stake a claim for itself as the number one global tourist destination.
For more information on opening a company in Dubai or Dubai Free zones visithttps://www.openadubaicompany.com/contents/the-free-zones.html or email us at  [email protected]