Free Trade Zone
Each Free Zone is governed by an independent Free Zone Authority (FZA) which is responsible for issuing the necessary operating licences for businesses operating within the various Free Zones.
UAE Free Zones
There are over forty Free Zones in the United Arab Emirates, all offering different opportunities and advantages to both domestic and foreign investors. If you wish to open a Dubai company, then the type of business that is to be set up will dictate which Free Zone should be used. For example, DAFZA is intended for businesses that import and export goods and the business activities permitted in TECOM include "design, development, use and maintenance of everything relevant to Information Technology, E-commerce and Media".

Ras Al Khaimah -RAK Free Zone
Although we deal with every Free Zone in the Emirates, by far the most popular is the Ras Al Khaima (RAK) Free Zone. The UAE is one of the fastest growing economies in the world and Ras Al Khaima is one of the fastest growing Emirates. There are many reasons for RAK's popularity; it is one of the most competitive Emirate States in terms of fees, costs and professional consulting, its close proximity to Dubai is incredibly useful for trading and transport, and a RAK Free Zone Entity can benefit from a 5% Customs Duty when trading with Dubai.
RAK is perfectly placed within the UAE, just a 45 minute drive away from Dubai, and conveniently located close to three separate ports, including Saqr Port where more than 1400 ships dock every year.. Of all the Emirates it is the closest to the Strait of Hormuz's main lane for shipping. Geographically RAK is situated almost in-between Europe, Africa and Asia, positioning it extremely well for international trading.
RAK is also naturally very close to the Ras Al Khaima International Airport. Here there is a large amount of storage facilities as well as very competitive pricing. It also boasts an "open sky" policy which means there are no restrictions on the amount of flights, or the time of arrival and departure. Incredibly, if you fly for 3 hours in any direction, the radius covers over 25 countries with a total population just shy of 2 billion.
Other Free Zones include:
Jebel Ali (the JAFZ)

Dubai Airport Free zone (DAFZA)

The Dubai Technology & Media Free Zone (TECOM)

The Dubai Cars & Automotive Free Zone

The Dubai Health Care City

The  Dubai Multi Commodities Centre

The Gold and Diamond Park
For more information and to speak to one of our specialists, please call us on 0208 421 7481 or +44 (0)208 421 7481 from outside the UK.
BENEFITS
Add that to an almost 0% crime rate and duty free export to 17 countries in the Middle East and you can see the benefits. Below are some of the more lucrative advantages:
•    0% Corporation Tax
•    0% Personal Tax
•    100% Foreign ownership
•    100% Repatriation of capital and profits 
•    No Customs Duty and no currency restrictions
•    No compulsory accounts to be submitted
•    No banking transfer limits and on current information no disclosure necessary to other tax authorities
•    Low renewal fees
•    Hassle free licencing procedures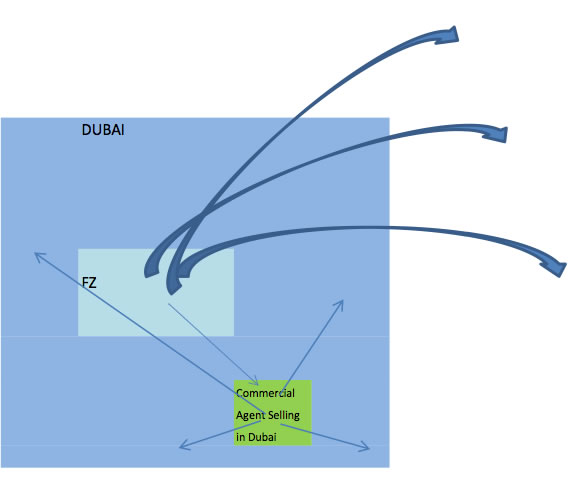 The diagram above shows that with a Freezone company you can trade in Dubai within the designated Free zone for your activity. If you wish to trade outside of your Free Zone then you will need to appoint a commercial agent to do this. This will avoid the requirement for an LLC in Dubai which will be 51% owned by a UAE resident.
For more information and to speak to one of our specialists please call us on 0208 421 7481 or +44 (0)208 421 7481 from outside the UK
OTHER FREEZONE BENEFITS
Full repatriation of profits and capital
Excellent infrastructure and facilities for logistics, manufacturing and processing
Dubai/UAE Free Zones are strategically located to access regional and international markets
Specialised Free Zones are available to service particular activities, please contact us for further details



For more information and to speak to one of our specialists please call us on 0208 421 7481 or +44 (0)208 421 7481 from outside the UK

Please contact us below for further information on our Dubai Business Registration services or to discuss the best option available for you to open a Dubai company.