TECOM's Investments are a business park operator in Dubai who has a very strong link to the Emirate's economy with a major role in in its growth and development and the company recently announced it had signed for a syndicated loan facility of up to 4 billion dirhams ($1.1 billion) to fund its further growth.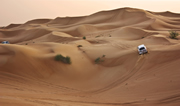 As Dubai looks to expand and diversify its economy, and also bring in more visitors and investment to the country, such developments in the business world could be vital to its plans. Lead arrangers and book runners of the loan are Abu Dhabi Commercial Bank, Citibank, Dubai Islamic Bank, Mashreq bank and Noor Bank alongside Commercial Bank of Dubai who joined as an early lead arranger before formal syndication.
According to TECOM Investments the syndication is expected to be completed by March this year with the combined conventional and Islamic facility being for around 3.53 billion dirhams. There is however an option to increase this amount to 4 billion dirhams ($1.1 billion). The details of the loan have not been specified by TECOM Investments but it did say that the loan may have a lifespan of between seven and eight years.
TECOM investments is a unit of Dubai Holding, the investment vehicle of the emirate's ruler and currently runs business parks that house more than 4,500 companies in various and wide ranging sectors including media, information technology, education and scientific research all of which contribute towards the overall economy heavily.
The company has previously said it plans to invest 4.5 billion dirhams in new projects and this is where the large part of the money raised from this loan is expected to go. Such plans include a district for the emirate's burgeoning design industry and a fund for start-up businesses. Talking about the loan, TECOM Investments said it would:
"help to fund the company's general corporate needs, new developments and growth plans, as well as other strategic objectives in line with its innovation strategy."
The Emirate has done well in the past with its business parks and Free Zones which are designated to encourage the rise of specific business and investments with incentives and tax breaks and a further expansion of these could bring even more money into Dubai as it looks to push on in the global marketplace and mark itself out as a top earner.
For more information on opening a company in Dubai or Dubai Free zones visithttps://www.openadubaicompany.com/contents/the-free-zones.html or email us at  [email protected]