The chairman of Emaar Properties feels that Dubai's property sector will continue to mature in 2015 with the real demand from long term investors and end users starting to pick up.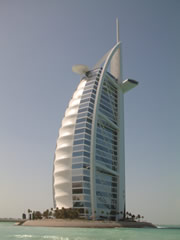 In 2009, Dubai's property sector was suffering badly from the global economic downturn and by 2013, they were in real trouble as supply markedly outstripped demand but policies introduced by the Emirates government seemed to have combatted the problem successfully. There was a slight worry in October 2014 when property prices spiked but the situation once again seems to have settled and is under control. Chairman of Emaar Properties Mohamed Alabbar wrote about the situation:
"The concerted efforts of the Dubai government have helped manage the supply pipeline, and at the current trends of population and tourism growth, demand is set to remain healthy. In 2013 we saw the property market heating up again. Demand spiked and the supply stakes broadened. Having learnt our lessons from the past, we did not let the market go berserk. "In 2013, things went crazy because supply was limited. As a long-term developer, this spike scares me. I am glad that people are saying that 'the market is cooling down' and that is healthy. We cushioned the market and that is what makes the current softening of the market important from a long-term perspective. What we now have is real demand from end-users and long-term investors. With the city drawing renewed growth energy from the Dubai Plan 2021, we are set to mark a new year of stability."
Emaar itself is looking to create several 'cities of the future' across Dubai over the coming years in order to boost growth for its retail and leisure sectors. Currently on the lookout for partnerships and investments, it aims to achieve 100 million visitors for its Dubai Mall.
Dubai has recently made big steps in trying to secure more visitors to the Emirate with massive airport expansions and a range of theme parks and shopping facilities all being built in a concerted effort to mark itself out as the globes top tourist destination. In a push to diversify its economy Dubai is aiming to become the top family destination by 2020 which has seen property firms investing heavily in the hotels and hospitality markets. Dubai parks and resorts is planning on building a 16 million square foot (1.5 million square metres) project on the outskirts of Dubai that is to feature three theme parks.
For more information on opening a company in Dubai or Dubai Free zones visithttps://www.openadubaicompany.com/contents/the-free-zones.html or email us at  [email protected]